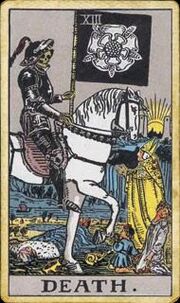 Death (XIII) is the thirteenth Major Arcana card in the Tarot decks. Aric Dominija is the current Death Arcana.
The Endless Knight
The Reaper
Tredici
A Reaper clad in black armor, scythe at the ready, riding a pale horse with evil red eyes.
He carries a black flag emblazoned with a white rose.
Unknown (Aric is able to mask his call)
Touch of Death (can kill with contact)
Death awareness (can sense dead things and approaching death)
Superhuman speed, strength, endurance, dexterity, senses, healing
Controlled telepathy
Unique CharacteristicsEdit
Wears impenetrable armor, spiked gloves, and a helmet.
Eyes turn starry with emotion.