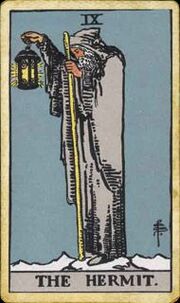 The Hermit (IX) is the ninth Major Arcana card in the Tarot decks. Arthur is the current Hermit Arcana.
Master of Alchemy
The Alchemist
An aged, cloaked man holding a lantern in the dark.
"A wise man in the guise of a boy."
Hyperintelligence
Hypercognition
Chemistry savant, guile
Potioner and elixirs master
Creating elixirs to give himself temporary powers
Unique CharacteristicsEdit
Appears elderly when using his powers.