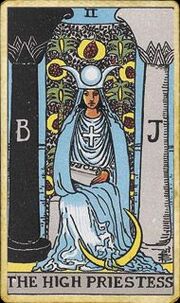 The Priestess (II) is the second Major Arcana card in the Tarot decks. Circe Remire is the current Priestess Arcana.
Ruler of the Deep
The Water Witch
A priestess— with water for hair and tentacles for legs— looms over a sacrificial victim at a bloody altar.
Water manipulation, including tidal wave generation and flood creation
Hydrokinetic combat, shapeshifting, and constructs (can form water objects)
Hydro scrying (can perceive through water)
Hydroportation
Unique CharacteristicsEdit
Iridescent blue scales on her arms, with a small fin at each elbow.