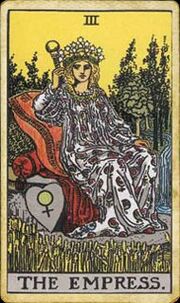 The Empress (III) is the third Major Arcana card in the Tarot decks. Evangeline Greene is the current Empress Arcana.
Our Lady of Thorns
The Poison Princess
Phyta
The May Queen
The Queen of Thorns
Mistress of Flora
Lady Lotus
The Red Witch
A woman sitting upon a throne with her arms open wide, wearing a poppy-red gown and a crown with twelve stars; her hair is strewn with poppies, vines, and strands of red.
White roses surround her throne, and the rolling hills behind her are awash in green and red— from both crops and blood.
"Come, touch ... but you'll pay a price."
Can create, shape, and control plants and trees
Can deliver poisons through her claws and lips, and spores from her hair and hands
Chlorokinetic scrying (can perceive through plants)
Regeneration
Special Skills Edit
Unique CharacteristicsEdit
Hair turns red, and fingernails morph into thorn claws.
Glyphs on her skin glow from green to gold, each one representing a weapon in her arsenal.