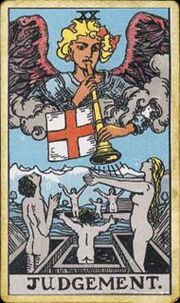 Judgment (XX) is the twentieth Major Arcana card in the Tarot decks. Gabriel Arendgast is the current Judgment Arcana.
The Archangel
The Seventh Coming
The Guardian Angel
Exalted One
Gabriel of the Light
An archangel carrying a sword, flying over a mass of bodies.
"I watch you like a hawk."
Flight
Superhuman senses, healing, tracking, and endurance
Unique CharacteristicsEdit
Large black wings, talon-tipped fingers.