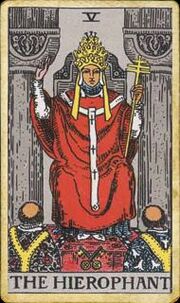 Hierophant (V) is the fifth Major Arcana card in the Tarot decks. Guthrie is the current Hierophant Arcana.
He of the Dark Rites
The Sacrificer
The Consecrator
A robed male holding his right hand high, two fingers raised, blessing his white-eyed followers.
"We go now to our bloody business."
Mind control (can last even after he's dead)
Mesmerism
Pathokinesis (emotion manipulation)
Unique CharacteristicsEdit
Pale from cannibalistic diet.
Teeth filed into sharp points.
Eyes turn white when he uses his mind-control power.