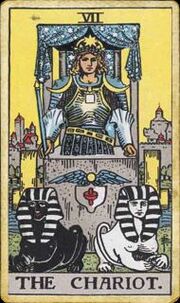 The Centurion (VII) is the seventh Major Arcana card in the Tarot decks. Kentarch Mgaya is the current Centurion Arcana.
Wicked Champion
The Chariot
The Wanderer
The Phantom
A warrior in a horse-drawn chariot, dressed in a red tunic and a helmet with a red-feather crest.
Waterfalls and waves appear in the background.
"Woe to the bloody vanquished."
Teleportation
Ghosting (intangibility, can phase rapidly between corporeal and incorporeal)
Ghosting extension (can make objects and other people intangible)
Superior aiming
Unique CharacteristicsEdit
When intangible, a faint outline of his body remains.