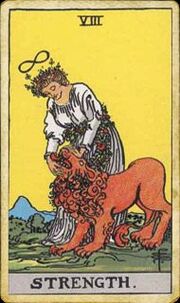 Strength (VIII) is the eighth Major Arcana card in the Tarot decks. It was previously known as Fortitude, for its "single-minded purpose". Larkin Inukai is the current Strength Arcana.
Mistress of Fauna
Fortitude
A delicate girl in a white robe controlling the gaping jaws of a lion.Both the
Like the Magician, the Strength card have an infinity symbol.
Animal manipulation (can control all creatures)
Animal scrying (can borrow the senses of animals)
Animal generation (her blood affects the physiology of creatures and can make them into her familiars)
Enhanced senses, night vision
Unique CharacteristicsEdit
Has claws and fangs.
Her eyes turn red when she mingles her senses with a creature's.