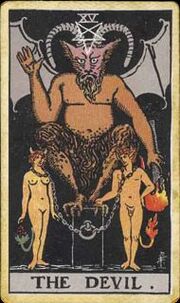 The Devil (XV) is the fifteenth Major Arcana card in the Tarot decks. Ogen is the current Devil Arcana.
Foul Desecrator
El Diablo
The Bloody Foul One
A goat-man ogre leading tethered slaves.
"I'll make a feast of your bones!"
Superhuman strength
Animal aggression
Can morph his body, first into a colossal ogre, then into a giant
His thickened hide repels acid and poison
Unique CharacteristicsEdit
Ten feet tall, a horned and hunchbacked beast with cloven feet.