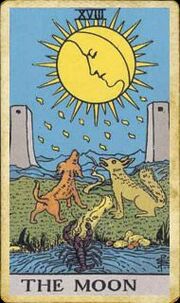 The Moon (XVIII) is the eighteenth Major Arcana card in the Tarot decks. Selena Lua is the current Moon Arcana.
Bringer of Doubt
The Huntress
La Luna
A glowing goddess of the hunt with red-tinged skin, poised in moonlight.
"Behold the Bringer of Doubt."
Pathokinesis (emotion manipulation)
Can cause doubt and use moonlight as a lure
Enhanced speed, endurance, senses, dexterity, healing
Precise aiming and superhuman archery
Quarter moon superimposed over a full moon
Unique CharacteristicsEdit
Skin glows red like a hunter's moon.