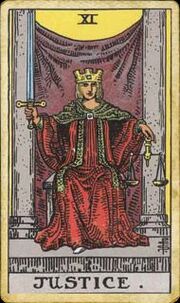 The Fury (XI) is the eleventh Major Arcana card in the Tarot decks. Spite is the current Fury Arcana.
A blindfolded, winged demoness, holding a steel-studded whip in her upraised right hand and weighing scales in her lowered left hand.
"Blood will tell. Blood will run. But the tears of the damned always taste sweet."
Acid Spitting
Flight
Superhuman senses, strength, and healing
Infrared Vision
Her fireproof wings can blend into surroundings, camouflaging her
Unique CharacteristicsEdit
Her eyes are yellow instead of white, with green keyhole pupils.
She has long retractable claws and bat-like wings.
Prior to striking an enemy, her wings will vibrate, the sharp claws tapping each other to make a rattling sound.