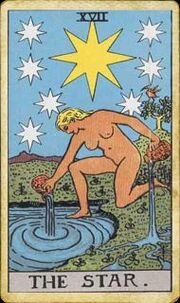 The Star (XVII) is the seventeenth Major Arcana card in the Tarot decks. Stellan Tycho is the current Star Arcana.
Arcane Navigator
The North Star
Supernova
A naked androgynous figure, gathering water under a bright eight-pointed star.
"I descend upon you like nightfall."
Stellar embodiment and manipulation
Enhanced senses and night sight
Can generate stellar bombs, detonating himself to paralyze or destroy enemies
Echolocation
Beacon emission
Astronavigation
Unique CharacteristicsEdit
When he uses his power, his body vibrates until it grows indistinct.