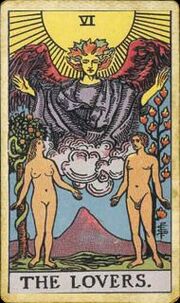 The Lovers (VI) is the sixth Major Arcana card in the Tarot decks. Vincent & Violet Milovnici are the current Lovers Arcana.
Duke & Duchess Most Perverse
Look-alike twins, a male and a female, stand hand in hand with a bloody windmill spinning in the background and dead roses at their feet.
"We will love you. In our own way."
Pathokinesis and love manipulation (can warp and pervert any who love)
Replication (can create carnates, living duplicates of themselves).
Command inducement and sense scrying (can command carnates and borrow their senses)
Two overlapping triangles, bisected with arrows
Unique CharacteristicsEdit
Violet is part of Vincent, an absorbed twin.