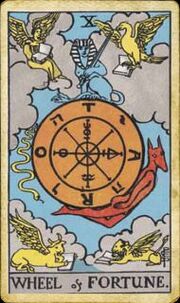 Fortune (X) is the tenth Major Arcana card in the Tarot decks. Azura Felix is the current Fortune Arcana.
Our Lady of Chance
Lady Luck
The Luck Thief
Fluke
A girl standing in the center of a huge spinning wheel.
A sphinx runs on top of it and a dragon clings to the bottom while ancient clay dice rain down from a night sky.
"Where she stops, nobody knows."
Luck absorption
Can impart misfortune (increasing her own luck) and steal luck through touch
Unique CharacteristicsEdit
Eyes and veins turn purple when she establishes a luck conduit.